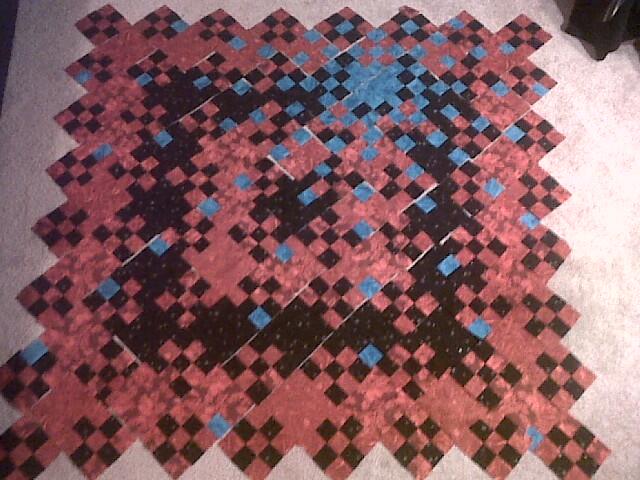 So, as you all can see I have been working on the piecing of my super secret quilt project. The name is still under construction as is the quilt top itself. I have been slaving over it all day… well part o the day. I think I took a dinner break, and I did watch an episode of Mad Men. Anywho, I've been working on this darn thing and I must say it is time consuming. Because of the placement of the blue pieces, it is taking a lot more sewing than I had thought.
While I have your attention, let me explain more about this quilt. I was actually inspired by an applique piece I saw on a patchwork background. I thought about doing something similar, and I had been thinking about project ideas for about two days when I thought. I can make the patch work the background and the foreground. I decided to use the blooming 9 patch pattern for the focal backdrop, while the vibrant blue color is the focal foreground. The blue star is the focal point of the quilt, and the blooming 9 patch of black and red is the background.  I really hope people understood that.
Anyways, I'm going to sleep here in a little bit and just wanted to update everyone on my work.
PS. Soon I'll work on getting a better camera, or better lighting.